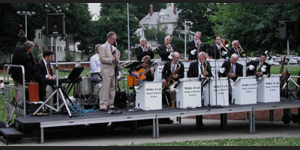 • White Heat Swing Orchestra •
Playing the swing & Jazz of the 1930's and 1940's!
White Heat Orchestra at Lincoln Center The White Heat Orchestra, with bandleader Craig Ball (on clarinet, right), is a high-energy band featuring a trio or up to 15 pieces playing the swing and jazz of the 1930's and 1940's for dancers of all ages. The White Heat Swing Orchestra, also known as the "Roxy Band", was the house band for almost five years at the upscale Roxy nightclub, playing music for both the swing dancers and the nightclub crowd every hour three nights a week. Fast or slow, they hit every note without missing a beat. The White Heat Swing Orchestra has many credits, including: * Boston's Best Dance Band - Boston Magazine * Recorded the sound track to the movie Dick Tracy on the Warner Brothers label. * Performed in concert with Cab Calloway, Tony Bennett, Lou Rawls, and Joel Grey If you are looking for a band for your party or function, the White Heat Swing Orchestra offers a demo tape for your review and they have a documentary video tape showing the television shows and special productions at which the band has performed.