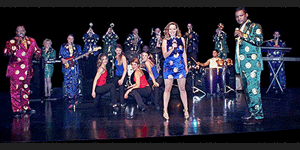 • Soul City All Stars •
Remarkable Entertaining Show Band!
When this eight piece band gets up on stage, audiences everywhere start rockin' to the beat. The Boston Globe hails Soul City as a "remarkably entertaining show band."

Soul City has become a dynamic force in the music scene. Soul City features superb rhythm section made up of four award winning musicians, four-part vocals and the renowned Soul City Horns.