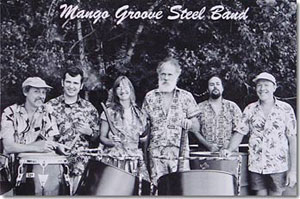 • Mango Groove Steel Band •
The Flavor of the Caribbean!
Mango Groove is a six member steel band consisting of five sets of pans, - lead pan, alto pans, guitar pans, cello pans, and bass pans, - a conventional drum kit and various auxiliary percussion. They play a variety of dance music - Calypso, Reggae, Jazz, Motown, and more - all with a Caribbean flavor that only the uplifting rhythmic sounds of a steel band can create. Their performances include Afro-Caribbean drumming and dance.