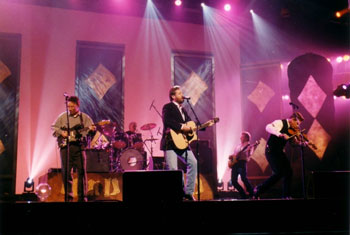 • Don Campbell Band (Country) •
Award Winning Performers!
The Don Campbell Band entertain any and every crowd with their extraordinary performances, mixing their original blend of country music with old and new favorites for a show experience that everyone will enjoy. With a charismatic frontman, great musicians, infectious melodies and extensive song list, they delight audiences with their versatility and stage appeal. A rich resume of performances, playing from intimate gatherings to arena events. They have played with Willie Nelson, Merle Haggard, Ricky Skaggs, Randy Travis and many other country greats, and have appeared all over the country at corporate and private events, clubs, theaters, festivals, casinos and auditoriums.
Testimonials:
Dear Don, On behalf of the Board of Directors, membership and staff of the Visiting Nurse Associations of America, I would like to thank you for two outstanding performances at our 20th Annual meeting. Carolyn S. Markey, President and CEO,
Dear Don, Thank you for being a part of the 5th annual Beach to Beacon. A hectic morning turned into a wonderful and patriotic event. The runners, spectators and all that were present really enjoyed the band, especially "America The Beautiful". Jim Ciampi, President < p> Dear Don, We were pleased to host you again this year last Thursday. Once again, we had a great turnout for the concert and your professionalim came through loud and clear to those attending. We have booked many groups over the past thirty-one years, but none can hold the candle to you and your band members. Douglas Dicey, CPRP, Director