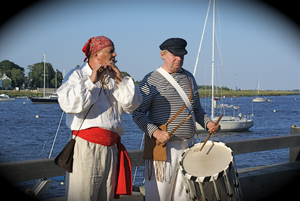 • Buccaneer Fife & Drum Duo •
A Nautical Fife and Drum Duo!
The life long love of music of this duo and their passion for the sea brings to life nautical songs of a sometimes forgotten era. Both artists are graduates of Berklee College of Music in Boston, Mass. If you want a feeling of the nautical spirit, the Buccaneer's play a wonderful collection of sea chanteys, well known maritime songs and fun songs such as Popeye the Sailor Man and Yellow Submarine. If you are a corporation looking to bring a taste of Boston and the Seashore to turn your event into something out of the ordinary, the Buccaneer Fife and Drum Duo will do just that. They are motivating, high energy and are perfect for seminars, conventions, corporate events, fundraisers, sales meetings, historical events or any time building team spirit is essential. They are also available for concerts, as strolling musicians, at and educational seminars.