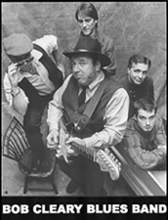 • Bob Cleary Blues Band •
Hand-Clappin', Foot Stompin' Boogies & Blues!
We are sure you will enjoy the unique and accessible approach of the Bob Cleary Blues Band. Their goal is to provide a complete entertainment package that will guarantee a successful concert, dance, or function. Along with contemporary works, the Bob Cleary Blues Band pays tribute to the greats of the genre including Muddy Waters, B. B. King, and John Lee Hooker. Their styles range from hand-clappin', foot stompin' "Boogies", to low-down, gutbucket "Delta Blues" featuring the soulful voice and guitar of Bob Cleary.