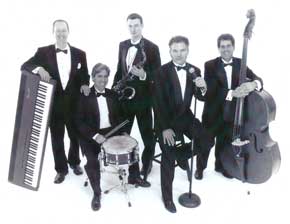 • Belltones •
Swing, Sinatra, Motown, Disco and More!
The Belltones, co-lead by pianist Bill Duffy and drummer George Farrell, are a 5-piece group specializing in Swing, Sinatra, Motown and Disco.

Featuring the lead vocals of Dane Vannatter, the band has appeared at most of Bostonís finest hotels, restaurants, and function facilities. Their sophisticated urban sound is perfect for cocktail receptions, or high-end corporate events where a touch of elegance is called for. Rounding out the group are Dave Landoni, on electric and acoustic basses; and Mike Tucker on saxophone. Dave has played with greats of New England jazz, including Dick Johnson, Herb Pomeroy, and the Artie Shaw band. Up-and-coming phenom Tucker has released two CDís with his jazz quartet, and draws record crowds for his shows at the Acton Jazz Cafe.

The Belltones are a versatile and exciting band, suitable for both elegant receptions and funky dance parties.
Testimonials:
Heart of Boston Entertainment highly recommends this band!